2023 PDA Visual Inspection Forum
Date: April 17-18, 2023
Location: Baltimore, MD
FEATURED SPEAKERS
Brady Wern
Lead Process Engineer, Catalent Biologics
Session: B1: Advances in Automated Inspection
Title: Demonstrating Equivalent or Better Performance: Defending Qualification of AVI
Date: Monday, April 17, 2023
Time: 1:30-1:50pm ET
Abstract: In order to satisfy USP <1790> Section 6.3 (demonstrate equivalent or better performance) and Annex 1 Section 8.32 (equal to, or better than) when qualifying automated inspection against manual visual inspection, special considerations must be made. Summary statistics, such as reject zone efficiency (RZE), have the propensity to obscure defect-specific performance, potentially qualifying poor automated inspection recipes. Additional controls were added to Catalent Bloomington site's approach to standardize our manual baseline process, outlier identification, and automated qualification procedures to meet and exceed regulatory expectations. Data analysis on site now extends to the defect sub-type level, and automated qualification ensures all defect sub-types are within an allowable criterion from manual inspection detection. This sub-type probability of detection (PoD) statistical comparison also comes with unique challenges, stemming from the small sample size given in each defect sub-type.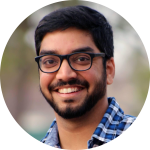 Sai Teja Neeli
Senior Process Engineer, Catalent Biologics
Session: A2: Difficult to Inspect Products and Packages
Title: Surrogate Use of Inspection Qualification: Opportunities and Risks
Date: Monday, April 17, 2023
Time: 4:25-4:45pm ET
Abstract: The use of surrogate provides a cost-effective way for recipe development and qualification activities as part of automated visual inspection (AVI) while avoiding the usage of expensive drug substance (DS)/drug product (DP). In addition, surrogate serves as a good alternative in scenarios wherein the product properties change over time following formulation and filling, needing to be frequently replaced to remain similar to the expected DP. Surrogate usage needs to be justified by comparing physical attributes including turbidity, viscosity, surface tension, density etc. with DP. A new strategy is outlined to document and rationalize the use of surrogate in AVI qualification. This strategy includes both manual visual inspection and automated inspection components to compare the proposed surrogate to the product.