PDA Visual Inspection Forum
FEATURED SPEAKER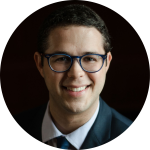 Jeffrey Williams
Manager, Drug Product Process Engineering, Catalent Biologics

Giannina Re
Project Manager, Visual Inspection, Stevanato Group
Session Title: Accelerating the Inspection Journey from feasibility to Vaccine production: A Catalent-Stevanato Group Case Study
Session Date: Wednesday, April 14, 2021
Session Time: 11:40am – 12:00pm ET
Abstract: Designing and manufacturing inspection machines for biologic and vaccine programs, including COVID-19, has posed unprecedented challenges over the last year due to the limited knowledge of some drug's final appearance and the critical attributes needed to assess the required level of quality. Additionally, the need to distribute some of these products as early as possible  has required deploying new strategies. This case study will illustrate the path from initial machine design to validation and production start for Stevanato Group Plus machines installed at Catalent plants in the U.S. and Italy. We will highlight the benefits of a close collaboration from the design to support in production, our work to anticipate the unknown by conducting several feasibility studies, and using bench vision units to set the parameters offline and speed up start of production.