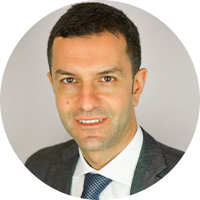 ANDREA COMO
VICE PRESIDENT, COMMERCIAL OPERATIONS, EUROPE
Andrea Como is the Vice President, Commercial Operations overseeing Europe and providing commercial management of existing customer relationships, while also working very closely with business development to support new opportunities in the region.
Andrea has extensive global business development and commercial experience with over fourteen years in contract development and manufacturing of small and large molecules. He has successfully built strong relationships across global biopharmaceutical companies and has an impressive track record growing sales at the regional and global level. Previously, Andrea was the Head of Business Development Drug Product, Europe and ROW for Siegfried. In this role, he managed the Business Development, Account Management and Sales teams in the Drug Product segment. He negotiated complex Development, Technology Transfer and Master Supply Agreements and led the implementation of the Drug Product Biologics Business. Prior to Siegfried, Andrea held various leadership positions during his nine-year tenure at Patheon.
Mr. Como holds a Masters in Chemistry and Pharmaceuticals Technology from the University of Milan, Italy.