UPTEMPO VIRTUOSO™ AAV PLATFORM PROCESS ACCELERATES TIME FROM GENE TO CLINIC
Catalent's UpTempo Virtuoso™ AAV platform process provides early-stage clients with accelerated timelines for the production of their clinical material. With a simplified supply chain, an increase in development and manufacturing efficiencies and standardized documentation, our scalable, CGMP-ready platform process can significantly reduce the time from gene to clinic.
From plasmid and MCB, platform delivers vialed material for the clinic in 9 months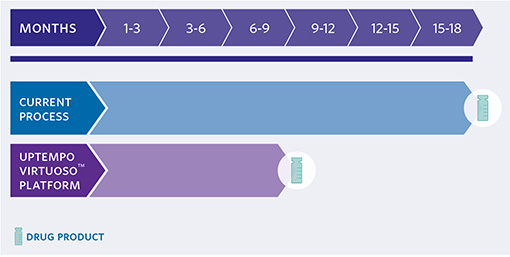 The platform process was developed for standard AAV serotypes, including 1, 2, 5, 6, 8, and 9. Starting with CGMP grade plasmid DNA and a master cell bank, the development and manufacturing process is capable of yielding drug product in 9 months.
The suspension-based platform includes a standard set of media, transfection reagents, buffers, and other consumables, greatly simplifying bill of materials and the supply chain. In-house analytical assays help reduce testing timelines.
Simplified Supply Chain
Development Efficiencies
Streamlined Documentation

Standard raw materials & limited optimization reduce upstream & downstream timelines

Suspension-based process at up to 400L scale
Single cell line & media
Limited transfection optimization
Materials on hand, ready for use

Parallel process & analytical development activities

In-house panel of analytics
Early development of reference standard
Standard qualifications & development experiments
Simplified formulation

Templated documents ease production & record review

SOPs
Pre-set sampling plan
Batch records
Technical staff trained on familiar processes, reducing start times & deviations
Catalent's platform process partners will also have access to our integrated supply chain of plasmid DNA, potentially further streamlining their timeline.
The UpTempo Virtuoso™ AAV platform process was developed from the expertise gained supporting over 70 viral vector programs. With our global network of dedicated, small- and large-scale clinical and commercial manufacturing facilities, Catalent can provide full supply chain control and support our partners at every stage of the candidate's journey.