AAV Platform Process
UPTEMPO℠ AAV PLATFORM PROCESS ACCELERATES TIME FROM GENE TO CLINIC
Catalent's UpTempo℠ AAV platform process provides clients with accelerated timelines for the production of their clinical material. With a simplified supply chain, an increase in development and manufacturing efficiencies, and standardized documentation, our scalable, cGMP-ready platform process can significantly reduce the time from gene to clinic.
FROM PLASMID AND MCB, CATALENT'S AAV PLATFORM DELIVERS VIALED MATERIAL FOR THE CLINIC IN 9 MONTHS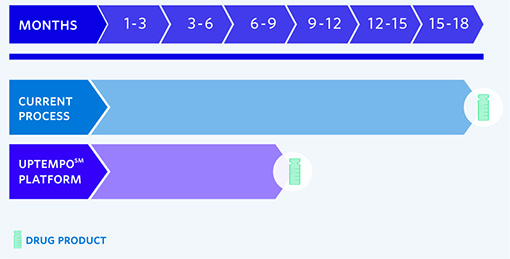 The platform process was developed for standard AAV serotypes AAV2, 5, and 6 in-house and further evaluated for customer projects for several others including 1, 2, 5, 6, 8, 9, and rh10. Starting with Catalent off-the-shelf GMP plasmids and producer cells, the UpTempo℠ platform can yield drug product in 9 months. Our off-the-shelf plasmids (pHelper, rep/cap) together with Catalent's clonal HEK-293 production cell line show scalable yield (equivalent to or better than traditional commercially available lines and plasmids) along with superior packaging (higher % full particles, lower residual packaged DNA).
The suspension-based platform includes a standard set of media, transfection reagents, buffers, purification resins, and other consumables, greatly simplifying the bill of materials and supply chain. In-house analytical assays are platformed and pre-qualified, reducing testing timelines. A comprehensive set of in-process analytics assures rapid and high-quality process development and transfer to clinical manufacturing.
Simplified Supply Chain
Development Efficiencies
Streamlined Documentation

Standard raw materials & limited optimization reduce upstream & downstream timelines

Suspension-based process at up to 400L scale
Catalent in-house plasmids and production cell line (flexible terms)
Single cell line & media
Limited transfection optimization
Materials on hand, ready for use

Parallel process & analytical development activities

In-house panel of analytics
Early development of reference standard
Standard qualifications & development experiments
Simplified formulation

Templated documents ease production & record review

SOPs
Pre-set sampling plan
Batch records
Technical staff trained on familiar processes, reducing start times & deviations
Catalent's platform process partners will also have access to our integrated supply chain of plasmid DNA potentially further streamlining their timeline. By being able to source your cell line, plasmid, and development and manufacturing services from a single provider, this end-to-end support and integrated supply chain from Catalent can reduce hassle and accelerate clinical programs as well as process characterization for late-stage programs.
The UpTempo AAV platform process was developed from the expertise gained supporting over 70 viral vector programs. With our global network of dedicated, small- and large-scale clinical and commercial manufacturing facilities, Catalent can provide full supply chain control and support our partners at every stage of your gene therapy candidate's journey.