Off-the-Shelf GMP Cell Banks
Why use our iPSC-banks?
Ethically sourced and consented for commercial use
Approved as intermediate product for further expansion and differentiation
Quality tested and functionally characterized
GMP-compliant manufacturing and processing
Non-GMP equivalents available for evaluation and faster time to clinic
Our HLAh (HLA-homozygous) cell lines significantly reduce immunogenicity and cover a large fraction of haplotypes in patient populations. We use cutting-edge iPSC technology to reprogram clinically approved cord blood collections into iPSC lines resulting in a superior quality of HLAh GMP-grade library.
We continually expand our library to incorporate current market and regulatory needs to support our customer programs focusing on an efficient path into clinic.
Our current offering:
| GMP-grade, non-HLA typed iPSC lines | GMP-grade HLA-homozygous iPSC lines | GMP-grade HLA-homozygous iPSC library |
| --- | --- | --- |
| Individual clinical-grade iPSC lines | Individual clinical-grade iPSC lines. Choose from a unique panel of different haplotypes. | Steadily expanding library with international ATMP regulations. Collectively, these cell lines cover a large fraction of HLA haplotypes in the Caucasian population |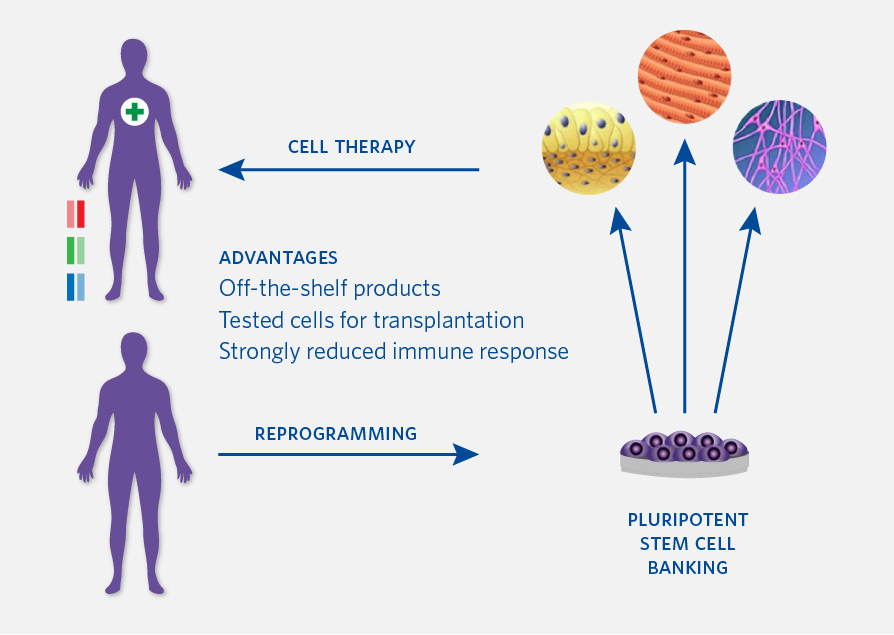 The advantages of using iPSC lines from homozygous donors to create off-the-shelf cell therapies