Biologics / Large Molecule Analytical Services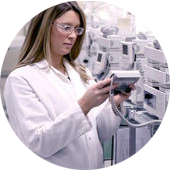 Catalent provides full testing capabilities to suit the needs of our clients' programs. With a wide spectrum of orthogonal testing/assays available at a single location, our comprehensive set of offerings include bioassays, physio-chemical testing and technologies, and are available to suit your specific testing needs across multiple disciplines. Rapid, customizable, cost-effective studies include:


GMP Lot Release Testing
Reference Standards
Characterization
Biosimilarity
Process Validation Support
Extractables / Leachables
Catalent provides stability testing services to support clients' biologics programs for their drug substance, drug product, and reference standards for both new chemical entity and biosimilar/biobetter. We can provide your physical, chemical, cellular biology, molecular biology, and microbiological testing to support each time point and study, all in one location.
ICH, WHO, and ASEAN storage conditions with:

Temperatures ranging from -80C to 60C.
Humidity ranging from ambient to 90%.
ICH Photostability Option 2 – light exposure and temperature control.
Thermal cycles and freeze/thaw exposures Chambers customized to clients' specific needs

Our state-of-the-art stability facility has:

Chambers that are fully mapped and qualified.
Chambers that are monitored with alarm notifications.
Dual redundancy system for power sources, water, and air handlers.
Walk in chamber, reach in chambers, and controlled substance isolation available.

Validated electronic scheduling and reporting documentation systems.
Reports that can be submitted for regulatory filings.
Validated sample traceability and inventory system.
Regularly inspected by FDA, MHRA, DEA, and other agencies.
A wide range of stability studies available.
Catalent Biologics can aid you in your investigations, both manufacturing and analytical.  With  comprehensive and diverse analytical tools available, including physical, chemical, cellular biology, molecular biology techniques, we can support variety of investigational needs including, but not limited to, the following examples:
Impurity identification
Cell line conformation by gene sequencing
Product gene conformation
Post-translational modification
Molecule-molecule interaction by binding study
See full list of capabilities for a listing of techniques available to support investigational testing needs.
IN-PROCESS MANUFACTURING / FORMULATION SUPPORT
Catalent Biologics provides support for in-process testing and formulation development. Testing capabilities provide support in a timely manner to minimize impact to manufacturing processing or development activities:
In process quality control checks
Formulation screening
DNA clearance
Process related impurities, e.g. host cell proteins
For support of packaging activities, Catalent Biologics can provide packaging ID testing. Whether clients' clinical or commercial supply is packaged at our Catalent packaging facilities, or the client chooses to use alternative packaging services, post packaging ID testing can be conducted to meet clients' needs.