Drug Substance Process Development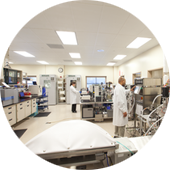 From cell culture through recovery and purification, the process scientists at Catalent Biologics develop processes that ensure consistent CGMP manufacturing performance and a reliable product supply. The use of identical bioreactors and controllers throughout development and manufacturing enables a smooth transition from non-GMP to GMP manufacturing. Comprehensive, integrated analytical testing ensures product quality attributes are maintained throughout the process.
The process development team at Catalent is equipped to work with GPEx® or external cell lines, to develop a process leveraging fed-batch or process intensification technologies (such as N-1 perfusion). During upstream development, an optimum process is developed to maximize product titer with the correct Quality Target Product Profile (QTPP).  Media and feed strategies and other process parameters are evaluated using DoE methods.  Once established at small scale, the processed is scaled up in preparation for GMP manufacturing.  Material is generated for the following:
Identify master cell bank candidates
Downstream process development
Intermediate Reference Standards
Start of analytical qualification
Product quality characterization
Optional formulation and stability studies
Non-GMP engineering/tox runs
Purification development is based on three chromatography steps and multiple filtration steps to purify and concentrate the product. Once the process is optimized, large scale production and engineering runs confirm process performance at larger scale. Purified bulk drug substance undergoes full testing to confirm it meets specification anticipated for GMP material.
Cell Culture Equipment:  Automated ambr® 15 cell culture system, 2 L – 250 L bench-scale and single-use WAVE Bioreactors™, Finesse G3Lab Universal Controller
N-1 perfusion: ATF
Purification Equipment:  ÄKTAexplorer, ÄKTApilot, ÄKTAavant, ÄKTAready, ÄKTAcrossflow, and Pellicon® holders, NFF Sciflex System and TFF SciPure System, Single-use 3M and Millipore depth filtration technologies
ambr is a registered trademark of Sartorius Stedim Biotech
WAVE Bioreactor and ÄKTA are trademarks of GE Healthcare Bio-Sciences Corp
Pellicon is a registered trademark of Millipore Sigma
Catalent has extensive experience with drug product process development for Phase I and II early- to mid-stage, including the following:
• Freeze thaw study at scale or with scale down model
• Mixing study at scale or with scale down model
• Pumping study (peristaltic or time pressure pump)
• Vmax and filtration study with scale down model
• Lyophilization cycle development