Drug Substance Biomanufacturing
Catalent Biologics' drug substance biomanufacturing services provide flexibility and scale to support your growth. We offer a broad range of integrated process development and analytical services to solve your most difficult development and biologics manufacturing challenges. Catalent's two state-of-the-art facilities utilize either single-use or stainless-steel bioreactors in a rigorous CGMP environment.
HOW BIOMANUFACTURING WORKS
Whether you are using a Catalent GPEx® technology-based cell line or your own cell line, we can design a robust production process capable of reliably producing your biologic under a rigorous CGMP environment.
Advantages of Catalent Biologics' Drug Substance Manufacturing Services:
The development and biomanufacturing teams work closely together to ensure scalability to full CGMP production.
Co-located analytical laboratories support method development, in-process, release and stability testing.
Global Catalent Quality System – inspection performance 2x better than industry average.

Regulatory experience and approvals, including multiple inspections by regulatory bodies and biopharmaceutical company clients.

Proven experience working with a wide variety of molecules, including: antibodies, fusion proteins, biosimilars, antibody fragments, and other complex recombinant proteins.
Flexibility to support small, clinical and commercial stage programs.
Ability to tech transfer later stage projects.
Expertise in biosimilar development, bioanalytics and drug substance biomanufacturing.
Catalent Biologics – Madison, WI
State-Of-The-Art Biologics Manufacturing Using Single Use Technology
Flexible CGMP production scale up to 4,000L (2×2,000L) Single Use Bioreactors
Bioreactor/Scale:
Sartorius ambr15
2L-10L glass
20L/50L rocking
20L/50L WAVE Single-Use
50L-2000L HyClone Single-Use
Finesse Controllers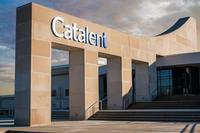 Catalent Biologics – Bloomington, IN
State-Of-The-Art Biologics Manufacturing Using Stainless Steel and Single Use Technologies 
Flexible CGMP production scale up to 5,000L (2×2,500L) Stainless Steel Bioreactors
Seed train:
Traditional batch
ATF (N-1 perfusion)
Bioreactor/Scale:
50L single-use stirred
20L-2,500L stainless-steel
Delta V Control System
Oxford, U.K. (coming soon)
Integrated Development, Analytical and Biomanufacturing Services at Bloomington, IN: