Catalent Completes Acquisition of RheinCell Therapeutics, Strengthening the Path Towards Industrialization of iPSC-based Therapies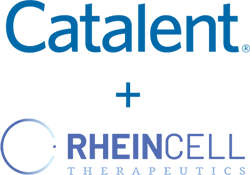 Catalent completes the acquisition of RheinCell Therapeutics GmbH, a developer and manufacturer of GMP-grade human induced pluripotent stem cells (iPSCs). RheinCell's iPSC tools, services and expertise offers the building blocks to industrialize iPSC-based cell therapies and complements Catalent's existing iPSC process development and manufacturing capabilities. With closing of the transaction, Catalent plans to facilitate accelerated access to these high-quality iPSC banks by leveraging its broad and expanding network. This acquisition positions Catalent as a full value chain partner of choice for iPSC-based therapeutics with integrated solutions from plasmid DNA manufacturing to clinical supply.
Read the Original Press Release
RheinCell Therapeutics Expertise
RheinCell has undertaken significant research and development to establish new iPSC offering, including:
Full GMP lines, including human leukocyte antigen (HLA)-matched cell banks, with superior genomic integrity
Non-GMP equivalent iPSC banks for streamlined and accelerated transition of preclinical programs to clinic
Custom cell banking
Expanded expertise in process development and manufacturing
For additional information on RheinCell's offering, visit the website
Catalent iPSC Expertise
Catalent has implemented a fully integrated team to enable faster transition of its cell and gene therapy customers' programs from raw material, viral vector production and through to cell therapy manufacturing.
In alignment with this vision, Catalent plans to serve its customers across the iPSC manufacturing value chain with RheinCell's expanded iPSC expertise and capabilities. Catalent currently serves its customers through broad iPSC manufacturing, including:
Process assessment and process development
Analytical method development and services
Clinical-scale manufacturing
Broad scientific knowledge with a team of iPSC experts