Characterization of Our iPSCs
ESCs have demonstrated high differentiation potential across many cell types but have also posed some ethical challenges deterring their broad use. iPSC-based therapies can provide some advantages over ESCs as an accepted raw material source. Our GMP banks benchmark at par morphologically with traditionally used ESCs.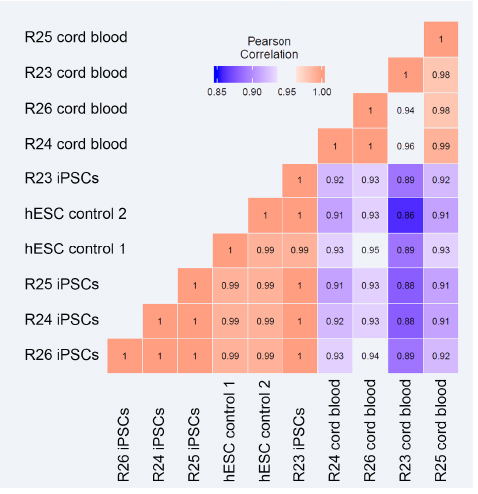 A comparison of the transcriptomic profiles of our iPSCs, their source cord blood cells, and human ESCs. Morphologically, our iPSCs benchmark comparably to hESCs
Differentiation and Immunogenicity
Our cell lines have demonstrated differentiation potential into various cell types including neurons, cardiomyocytes, retinal pigment epithelial cells and more.
HLA (human leukocyte antigen) genes are major determinants of tissue recognition and rejection in the body. The thousands of HLA variants in the population complicate cell donor-recipient matching and often lead to immune rejection. By contrast, HLA-homozygous (HLAh) donors mitigate the immunogenicity challenges. Carrying a single HLA haplotype, HLAh cell lines genetically match a statistically larger portion of the population from their starting material.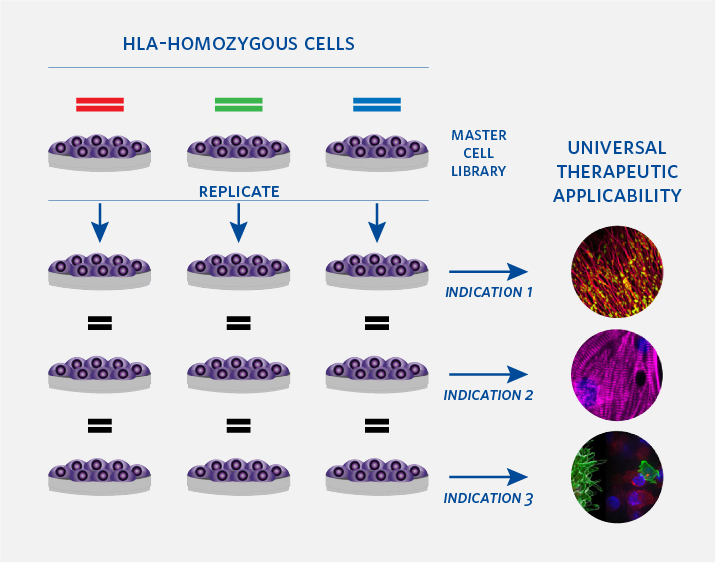 HLA-homozygous iPSCs –significantly reduces immunogenicity with high expansion capacity and broad differentiation potential across various cell types
Our iPSC banks are continually expanding to meet the safety and donor criteria set forth by the FDA and EMA. We review and revise, where necessary, our quality testing and tissue sourcing guidelines to stay current with the evolving regulatory landscape for iPSC banking. The donor consent supports the commercial use of Catalent iPSCs in the development and manufacture of Cell Therapies. Our viral and safety testing is evolving to meet FDA and EMA compliance. We implement end-to-end GMP processes from banking to manufacturing to meet strict quality standards as customer programs move from the preclinical stage into clinic.
Reach out to Catalent's iPSC expert team to learn more about our expanding regulatory characterization attributes.