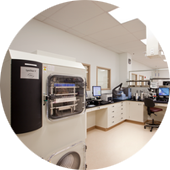 The formulation scientists at Catalent have experience in a variety of formulations and product presentations. The development team will integrate the biophysical and biochemical characterization of your molecule with the final product format, developing a formulation that will ensure delivery of a stable product to the patient. For products that need the added stability of lyophilization, the required lyophilization cycles can be optimized through the use of a LyoStar II™ development lyophilizer. Whether your molecule requires a liquid or lyophilized formulation in a vial or syringe presentation, Catalent has the experience and capabilities needed to develop and deliver your clinical or commercial formulation.
Molecular Developability

Forced degradation
Molecular Operating Environment

Conformational Stability

UNcle, Wyatt DynaPro III, NanoDSC, ΔG

Colloidal Stability

Dynamic and Static light scattering
Solubility assays

UV/Vis Spectrophotometry
UHPLC Waters Acuity H class and Premier

PDA, FLR, CAD, and QDa detectors

CE-SDS with Caliper and Maurice
cIEF with Maurice and CZE with Caliper
Potency Assay with ELISA, BLI and ITC
Solution characterization

Low and high-throughput pH meter
Viscosity with VROC Initium Plus and LOVIS 2000
Density with DMA35 and DMA4500
Tg and Tg' with modulated DSC
Tc with freeze drying microscope

Subvisible particle analyses

MFI, FlowCAM, AURA, and HIAC

Biophysical Characterization
DP Process

Peristaltic and time pressure filler
Material Compatibility, Freeze/Thaw, Mixing, light sensitivity studies.
LyoStar III lyophilizer

Automated Processing

TECAN, Big Tuna, EpMotion.
LyoStar II is a registered trademark of SP Industries Inc.