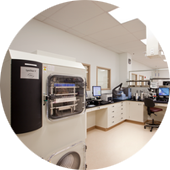 The formulation scientists at Catalent have experience in a variety of formulations and product presentations. The development team will integrate the biophysical and biochemical characterization of your molecule with the final product format, developing a formulation that will ensure delivery of a stable product to the patient. For products that need the added stability of lyophilization, the required lyophilization cycles can be optimized through the use of a LyoStar II™ development lyophilizer. Whether your molecule requires a liquid or lyophilized formulation in a vial or syringe presentation, Catalent has the experience and capabilities needed to develop and deliver your clinical or commercial formulation.
Dynamic light scattering
Multi-angle light scattering (MALS)
Analytical ultracentrifugation (AUC)
Differential scanning fluorimeter
Differential scanning calorimeter
Karl Fischer titration
Circular dichroism spectropolarimeter
Micro flow imaging
HIAC
Freeze dry microscope
Peristaltic and time pressure filler
LyoStar II lyophilizer
LyoStar II is a registered trademark of SP Industries Inc.