DEVICE ASSEMBLY & PACKAGING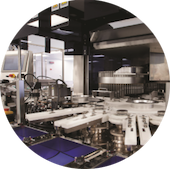 Catalent Biologics offers flexible layouts supporting inspection, labeling, cartoning, device assembly, and final packaging, integrated within our four drug product manufacturing sites in Belgium, France, Italy, and the United States. Our automated assembly for auto-injectors, safety devices, and accessorized pre-filled syringes utilize state-of-the-art high-speed equipment to support both clinical and commercial supply.
By having packaging operations at the same site as aseptic filling, we can expedite the packaging process, allowing quality products to get to patients faster.
Our global Catalent network also allows us to tap into our Clinical Supply Services.
VIALS | INSPECTION, LABELING & PACKAGING
| Column 1 | Column 2 |
| --- | --- |
| Key Services | Automated and manual labeling; automated, semi-automated and manual inspection; UV code verification; variable print data; label placement; commercial labeling; 2D data matrix verification |
| Methods & Equipment | Seidenader VI-30 automated inspection up to 200/min; Bosch semi-automated inspection up to 250/min; Optrel semi-automated inspection up to 50/min; lighted inspection booths with black and white backgrounds for manual inspection |
PRE-FILLED SYRINGES | INSPECTION & LABELING
| Column 1 | Column 2 |
| --- | --- |
| Key Services | Fully automated, semi-automated and manual inspection; plunger rod insertion; automated commercial labeling; 2D data matrix verification; variable print data |
| Methods & Equipment | Eisai, Seidenader, and Brevetti automated inspection machines up to 300 units/min; lighted inspection booths with black and white backgrounds; Groninger labeler and plunger rod insertion machine |
PRE-FILLED SYRINGES | ASSEMBLY & PACKAGING
| Column 1 | Column 2 |
| --- | --- |
| Key Services | Automated auto-injector and safety device assembly; automated Dividella top load tray/cartoning; blister thermoform packaging; manual packaging/kitting options |
| Methods & Equipment | Auto-injector assembly for YpsoMate®; Uhlmann ET/MT hybrid thermoformer; Uhlmann and Multivac thermoformer with Marchesini cartoner syringe denester; label and plunger rod insertion; label and safety device assembly for BD Ultra-Safe Plus™ and BD Preventis™ |